On March 11, 2021, MyFavorito marked the long-awaited return to sport with an official launch event at Geelong's premier sporting precinct, Kardinia Park. The event, which was attended by brand ambassadors and local sporting legends Cam Mooney and Emily Mannix, celebrated the strength of local sport, and encouraged local sporting clubs to embrace fan-empowered sponsorship.
MyFavorito, has enjoyed immediate support in the greater Geelong region — sending money to over 70 sports clubs and partnering with established local brands like Geelong Fresh Foods, Grill'd, and Tyrepower.
"MyFavorito kicked off its Australian arm right here in Geelong after we saw the strength of the local sport and community, and the fact that the region is a burgeoning technology hub," said MyFavorito Managing Partner Mark Hinshelwood.
MyFavorito is changing the game for fans, brands, and clubs in Geelong, Australia, and the rest of the world. Fans collect codes when spending money with local businesses, scan or enter the code using the MyFavorito app and send money to their favourite sports club.
Emily Mannix, Melbourne Vixen and 2020 Suncorp Super Netball Champion, highlighted the importance of local sports and community in her journey to professional sports.
"Coming from Drysdale and playing community sport, it's such a big part of me and where I've come from, and it's really special...and I think it really adds to who I am today and playing for the Vixens...so I love [MyFavorito], I love the concept," she said.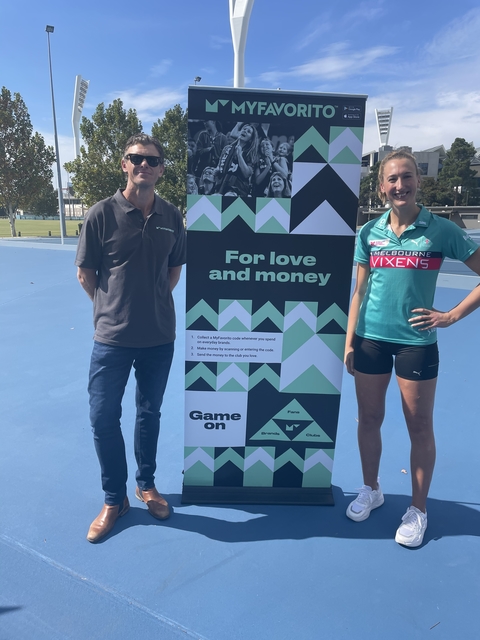 MyFavorito brand ambassadors Cam Mooney and Emily Mannix.
After 2020's devasting impact on sports, the need for innovation in sports sponsorship has never been more apparent, explained former Geelong Cats legend Cam Mooney.
"When it comes to sporting landscape, it was a really shocking year for everybody...so to have this initiative to help put real money back into sporting clubs in the future is just an absolutely fantastic idea and I'm really excited to be involved," he said.
The event was also attended by local club representatives, Netball Victoria, and local Grill'd store owner Stuart Menzies. Check out the video to see all the highlights from the event and get to know our brand ambassadors Cam and Emily.
About MyFavorito

MyFavorito is the ditigal, fan-empowered sports sponsorship platform that turns fan love into real money. With a radically different sponsorship model, MyFavorito build the ultimate playing field for sports. Fans decide and can generate real money for their favourite club. Brands activate and create real relationships with measurable results. Clubs win and generate a new and infinite source of revenue for a sustainable future — completely independent of matchday, stadium, and traditional sponsorship contracts and partnerships. MyFavorito not only helps sports clubs make more money but changes the game for millions of fans, businesses, and sports clubs around the world. We are flipping the old sponsorship model on its head and creating a world where everyone wins. It's Game On. It's For Love and Money. Brands, clubs, and fans can signup for free at any time
here
and get started immediately.