Moritz Fiege is latest fan-empowered sponsor to join the platform, supporting grassroots and professional sports clubs across Germany.
Moritz Fiege, a fifth and sixth-generation family brewery with strong roots in the Bochum region, is now supporting all grassroots sports and professional clubs in the region and throughout Germany with the Moritz Fiege Club Sponsorship Program. Sports fans across Germany can now send €0.50 to their favourite club whenever they purchase a case of Moritz Fiege beer. The innovative campaign takes place on MyFavorito — the fan-empowered sponsorship platform.
How it works
With the Moritz Fiege Club Sponsorship Program, every sports fan across Germany can now directly support their favourite club. Sports fans and club members can buy a case of Moritz Fiege from any retailer, upload a picture of their receipt in the MyFavorito mobile app (free for iOS and Android) or directly at
myfavorito.com/mortizfiege
and select their favourite club. The fan can choose from all Bochum sports clubs and over 90,000 German sports clubs. After a short time, the fan will receive a confirmation notification and their selected club will receive a sponsorship amount of €0.50.
Attractive Prizes for Fans
In return for supporting their sports club, fans will receive one Moritz Fiege loyalty point with every purchase that can be used to participate in the Moritz Fiege Instant Prize Draw. There are a variety of exciting prizes on offer including: playing cards, dice, dartboards, bar tables, mini-fridges, and foosball tables. There are also 3 grand prizes on offer, free Moritz Fiege Beer for a year, a tour through the traditional brewery and a beer sommelier evening for 10 people!
Fans can also earn loyalty points for the Moritz Fiege Instant Prize Draw by participating in the Moritz Fiege fan survey.
The Moritz Fiege Club Challenge
And that's not all! In addition to supporting sports clubs with every case of beer, Moritz Fiege will also be running a club challenge. Every time a fan buys a case, uploads their receipt and sends money to their club, the club will receive a point. All clubs that receive money through the Moritz Fiege Club Sponsorship Program are automatically added to the club challenge. At the end of the challenge, the top 3 clubs with the most points will receive additional cash prizes: first place €500, second place €300, and third place €200.
Sports clubs and fans can view the leader board and follow their club's progress by joining the Moritz Fiege community on MyFavorito here (
myfavorito.com/moritzfiege_wettbewerb
.)
Carla Fiege, sixth-generation Managing Director of Moritz Fiege said
"Club sport is close to our hearts and we have been involved in sport sponsorship here for many years. With MyFavorito we now have the opportunity to support a large number of clubs in the region in a simple way and to get in touch with many sports fans and sports clubs. We are particularly pleased to be able to support regional club sport together with our fans in the spirit of togetherness."
Dirk Schlenzig, Co-Founder and CEO of MyFavorito, said
: "It is a great pleasure and honour for us to be able to work together with a brewery that is so rich in tradition and anchored in sport. We are very pleased that Moritz Fiege, a very renowned and well-known company with a great product, has decided in favour of fan-empowered sponsorship. With MyFavorito we not only want to improve sports sponsorship but also create completely new possibilities: clubs gain more sponsors and generate more revenue through their fans and companies get more customers and achieve more growth. Innovators and first-movers like Moritz Fiege are helping us massively and we are very grateful for this."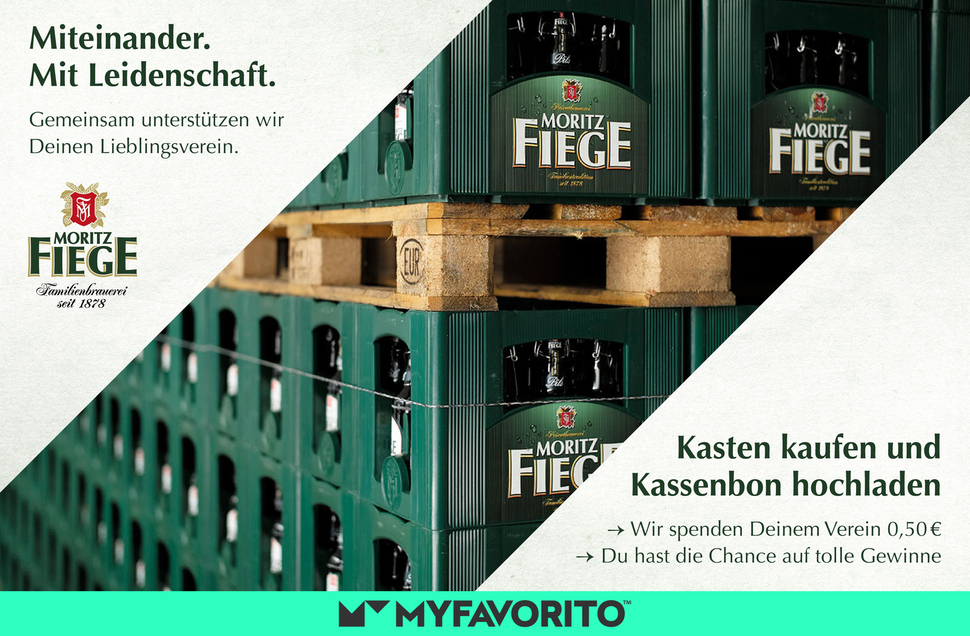 About the family brewery MORITZ FIEGE
The private brewery Moritz Fiege GmbH & Co. KG is located in the centre of Bochum and the Ruhr region and is deeply rooted there. As early as 1878, Moritz Fiege applied for the brewing rights and in the six generations since then the family brewery has been producing beer with love and passion.
The current 11 beer specialities from Moritz Fiege are brewed according to the original style and recipe and are perfectly crafted for quality and taste. This includes hand-picked, natural ingredients from the best growing regions in Europe, a loving brewing method and plenty of time to mature. Awarded the Slow Brewing Seal of Approval, the toughest and most consistent seal of approval on the international beer market, Moritz Fiege stands for outstanding taste and a clear conscience when enjoying it.
In addition to the high-quality standards, Moritz Fiege is characterised by a close connection with the people in the region, which can be seen in the diverse commitment to hospitality, culture, social issues and sport. The latter is underlined by the long-standing partnership with VfL Bochum 1848 and the organisation of the "MORITZ FIEGE Cup" in amateur sport.
About MyFavorito
With MyFavorito - the fan-empowered sponsorship and fan engagement platform - sports clubs can attract more sponsors, generate more revenue and better activate their fans and communities. Companies use MyFavorito to support their customers' favourite sports clubs transactionally, to inspire new customers and achieve more sales, and build customer loyalty and growth.
With MyFavorito's radically different approach to sponsorship, companies can set their own sponsorship offers, which consist of a condition and a monetary amount; for example, "buy my pizza and I'll give €1 to your favourite club" or "watch my new promotional video and I'll give €0.50 to your favourite club". Fans redeem these offers for their favourite club and "make" (not donate) money. Companies can support thousands of clubs at the same time and only pay when their offer is redeemed.
Want to join?
Across Germany, more than 300 national, regional, and local brands are using MyFavorito to run their own sports sponsorship program and as a result German sports fans have already sent money to over 1000 different sports clubs across the nation. Interested businesses from all sectors — such as retail, eCommerce, hospitality and many more — can register on the MyFavorito platform
here
and connect with sports clubs and their communities. Businesses can create various offers for fans, thereby generating more customers and supporting club sport at the same time. Members of each club's community can redeem these offers and directly support their favourite club.
Support your club today!
Moritz Fiege promotions are live on MyFavorito NOW! Download the MyFavorito app (free for IOS and Android) or access the promotions directly via the MyFavorito website
here
.
Buy a case of Moritz Fiege, upload your receipt and support your club today!
It's Game On. It's For Love and Money.