Bologna, Italy, May 19, 2022 — Bologna F.C. 1909, seven-time Italian champions, are strengthening their corporate social responsibility (CSR) efforts with premium partner Alessandro Berselli and MyFavorito, the fan-empowered sponsorship platform. The game-changing Bologna F.C. 1909 CSR platform will be launched on MyFavorito with all revenue going directly to Bologna For Community — empowering Rossoblù fans and sponsors to support the club's social initiatives in radically new ways and earn great rewards and benefits at the same time.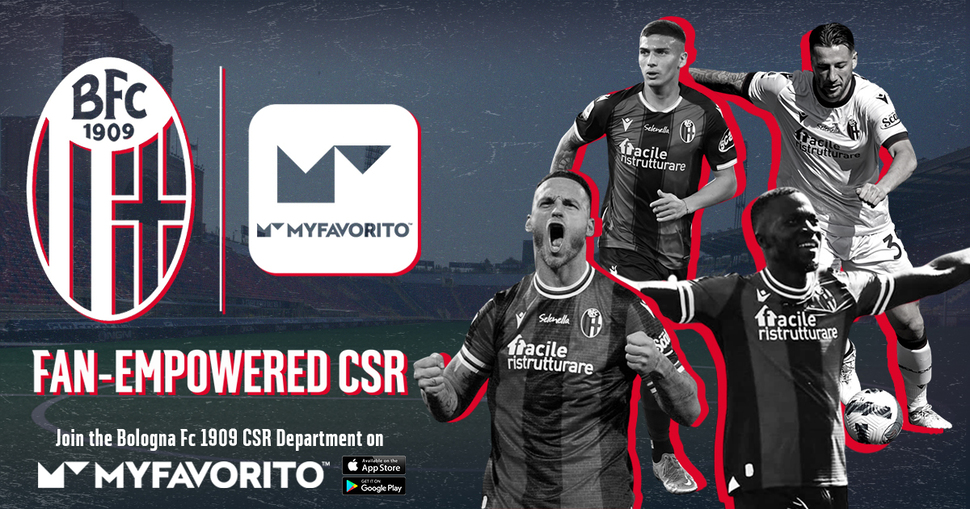 Fans "make" (not donate) money for Bologna F.C.'s social initiatives
Unlike traditional donation or fundraising platforms, Bologna's fan-empowered CSR platform does not ask fans for money. Fans can feel great, easily get involved and "make" (not donate) money for the club's social initiatives by simply watching promotional videos, participating in polls and contests, and making everyday purchases.
To get started, fans download the MyFavorito app (free for iOS and Android) or register online
here
. After signup, fans can redeem the MyFavorito action code "BolognaForCommunity '' to get their first 10 points.
Right now, Rossoblù fans can watch videos from Alessandro Berselli and make €1 for Bologna For Community. They can also spend €10 in the Alessandro Berselli online store (
www.squis.it
) and send €3 to Bologna For Community or purchase an "I AM BO" Berselli bottle in their favourite supermarket, upload their cash receipt and immediately send €0,50 to Bologna For Community.
Fans earn great rewards and prizes
In return for their support of Bologna For Community, fans will receive Bologna F.C. loyalty points through MyFavorito's built-in loyalty system. Fans can then redeem the loyalty points for exclusive fan experiences or attractive loyalty rewards including match tickets and signed jerseys. Fans can also use their loyalty points to participate in the Bologna Instant Prize Draw and immediately win small and large prizes. Right now fans can win a signed Riccardo Orsolini jersey.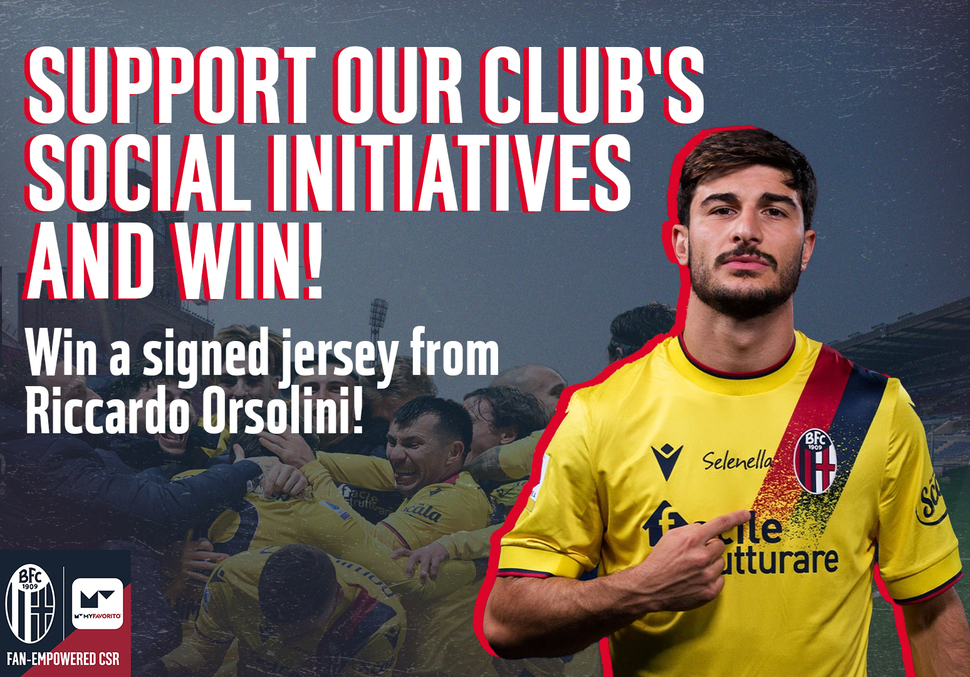 Bologna For Community
The Bologna For Community project stems from Bologna F.C.'s vision of inclusion, accessibility and fun. This project was developed to provide free transport assistance for disabled fans for all home matches at the Renato Dall'Ara stadium. Over the past two years Bologna For Community has continued to expand to serve the changing needs of the community, providing vulnerable citizens with transport to COVID-19 vaccination hubs and assisting with the integration of Afghan and Ukrainian refugees. Bologna F.C.'s marketing and CSR departments immediately identified MyFavorito and fan-empowered sponsorship as an opportunity to strengthen this important project, and identified Alessandro Berselli as the perfect partner to launch the new CSR platform with.
Christoph Winterling, Commercial and Marketing Director at Bologna F.C., said: "We're very excited to launch the Bologna F.C. CSR platform with MyFavorito, a project that represents our club's values of inclusion, accessibility and fun. It's great to be able to shine a light on the fantastic and meaningful work our CSR department does and work with our marketing team on innovative ways to get our fans involved. As a Bolognese company with strong ties to the club, the city, and the community, Berselli was the perfect partner to launch with. This project not only shows the club's forward-thinking approach to important issues such as social responsibility, but how much we value our community."
More value to sponsors, more money for meaningful projects
Alessandro Berselli, a leading Bolognese wine producer and Bologna F.C. premium partner, jumped at the opportunity to contribute to this project and join the MyFavorito platform. Eleonora Berselli, Marketing and Communications Manager of Alessandro Berselli, said: "As a Bologna F.C. partner and Bolognese company, Berselli is very connected to the city and its community. So naturally we are very excited to join this project and contribute to the club's CSR projects in a new and innovative way. The new Bologna F.C. CSR platform powered by MyFavorito is easy-to-use and allows companies to get involved in the club's CSR projects in an effective, transparent and measurable way. We hope to see many more Bologna F.C. partners and local businesses join us on the platform soon and support Bologna For Community."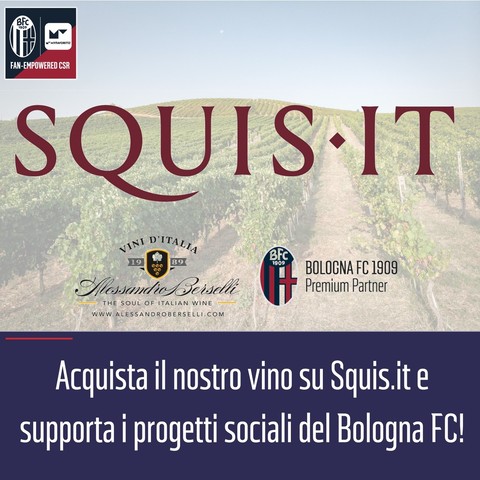 MyFavorito is the platform for fan-empowered sports sponsorship and community activation. The radically different approach to sponsorship turns fan love into real money for sports clubs. Fans decide and can generate real money for their favourite club. Brands activate and generate more sales, customer loyalty and growth. Sports clubs engage better with their fans and attract more sponsors, generating a new source of revenue that enables them to give back to their communities in new and exciting ways.
Dirk Schlenzig, Co-Founder and CEO of MyFavorito, said: "It's a huge pleasure and honour for us to work with such a prestigious sports club and the great people of Bologna F.C., its sponsors and its exciting fans. MyFavorito's mission is to connect sponsors and fans in radically new ways to activate fans better, deliver more value to sponsors and ultimately generate more revenue for the club. Now fans can feel great, do good and support great social projects just by watching a video, buying a bottle of fine wine or participating in a poll. And they can win great prizes and rewards for their contribution! Bologna's new CSR platform is a first-of-its-kind and we look forward to building a wonderful showcase together in Bologna and then introducing it to many great sports clubs around the world – showcasing Bologna F.C. as a true digital lighthouse and innovator."
Open to all businesses
Bologna's fan-empowered CSR platform is open to all sponsors as well as local businesses in the region. Interested brands and companies from all sectors — such as retail, e-commerce, hospitality, and many more — can contact Clara Simonini (
[email protected]
), connect with the club and Rossoblù fans, and create new sponsorship offers. Fans can then redeem these offers and with each transaction, cash flows directly to Bologna for Community.
Bologna F.C. fans can access the social platform directly through the
MyFavorito website
or the MyFavorito app (find us in the App Store and Google Play) and support Bologna for Community today! Use the action code "BolognaForCommunity'' to immediately get your first 10 loyalty points.
Read the Bologna F.C. 1909 press release here:
http://www.bolognafc.it/il-bologna-e-my-favorito-insieme-per-le-attivita-di-responsabilita-sociale-rossoblu/
Find out more about the Bologna F.C. 1909 Fan-empowered CSR platform here:
https://www.myfavorito.com/bolognafc
About Bologna For Community
The Bologna For Community project was created in partnership with Io Sto Con Onlus and PMG Italia to guarantee free transport assistance to the Renato Dall'Ara stadium for all home matches for people with disabilities, who, in the absence of them, could not or would have severe limitations in reaching the stadium. The possibility to reach the stadium thanks to a specific escorting service can represent an opportunity for these people to overcome architectural barriers and, above all, social inclusion. The Bologna For Community project stems from Bologna Fc's vision of inclusion, accessibility and fun. The Bologna For Community project has become part of the Bologna Beyond Barriers, a participatory process to support the city's campaign for the European City Access Award. This prestigious award celebrates a city's willingness, ability and efforts of a city to become more accessible in order to ensure equal access to fundamental rights, improve the quality of life of the population and ensure that everyone has equal access to all resources and services that cities have to offer.
About Bologna F.C. 1909
Founded in 1909, Bologna F.C. 1909 is an Italian professional football club based in Bolgona, Emilia-Romagna. The club plays in Italy's top league, Serie A and is one of the top 10 most popular clubs in Italy with 70 active fan clubs. In addition to its successes at home (seven Scudetti, two Coppa Italias and one Coppa Alta Italia), on an international level it was the first Italian team to dominate in Europe, winning the Central European Cup (equivalent to the Champions Cup at the time) in 1932 and 1934.
About Alessandro Berselli
Alessandro Berselli founded and created the ALMA WINES project & concept with the goal of creating exciting wines and sharing the prodigious, elaborate Italian wine heritage with an international consumer. Alma is a mysterious term that has various origins. From Spanish and Italian origins, Alma means "Soul", the essence or the embodiment of specific qualities. From Latin origin, Alma also means tutorship, fostering in an encouraging, supportive way. Both definitions fit perfectly with our vision and purpose of promoting the Italian wine culture globally. The philosophy of ALMA is based on a revolutionary concept. The soul of Italian wine needs to be inclusive of the many traditions and expressions that enrich Italy. We take pride in our origins; therefore, our purpose is to share our millennial tradition, love, passion & vision with the entire world. Italian wine culture is an immense noble treasure that should be accessible to anyone to enjoy. Our soul is Italian, but our spirit is universal
The company's expertise is distributed throughout our many brands with equal passion and extensive care. Our range of wines represents and enhances the authenticity of most Italian regions, from Piedmont to Sicily, while preserving the unique character of each region and vineyard.
About MyFavorito
MyFavorito is the digital, fan-empowered sports sponsorship and community activation platform that turns fan love into real money. With a radically different sponsorship model, MyFavorito build the ultimate playing field for sports. Fans decide and can generate real money for their favorite club. Brands activate and create real relationships with measurable results. Clubs win and generate a new and infinite source of revenue for a sustainable future — completely independent of matchday, stadium, and traditional sponsorship contracts and partnerships. MyFavorito not only helps sports clubs make more money but changes the game for millions of fans, businesses, and sports clubs around the world. We are flipping the old sponsorship model on its head and creating a world where everyone wins. It's Game On. It's For Love and Money. Brands, clubs, and fans can sign up for free at any time here and get started immediately.