Now's your chance to experience VfL Bochum 1848 powered by MyFavorito and get a VfL match-worn jersey!
Following a successful launch last week, Bundesliga club VfL Bochum 1848 are embracing fan-empowered sponsorship to reward their fans' loyalty with MyFavorito. Right now, fan's that join the VfL-Community receive 5 loyalty points plus an additional 5 points for their fantastic victory against SC Freiburg last weekend!
Fans also receive loyalty points in the VfL-Community when they spend with participating sponsors and for every goal and every win in the Bundesliga. Fans can redeem these points for great prizes and even have the chance to win Pantovic's match-worn jersey from the home game against Freiburg.
Download MyFavorito, join the VfL-Community and get that match-worn jersey!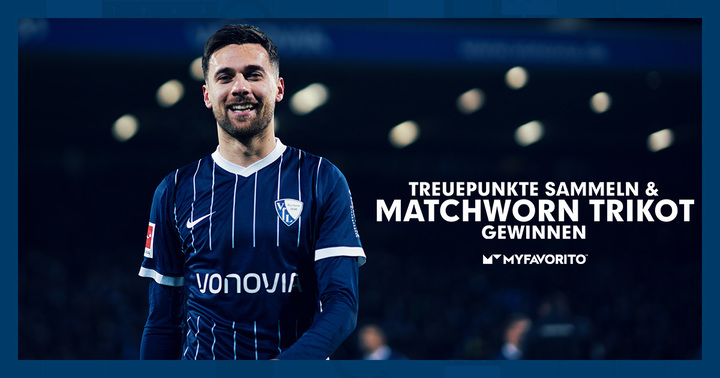 In addition to supporting VfL Bochum 1848, fans can also make money (not donate) for all local sports clubs in the region. MyFavorito helps sports clubs of all sizes attract more sponsors and better activate their fans (clubs can register
here
). If you are a VfL Bochum 1848 fan and think MyFavorito could also be interesting for your local sports club, then ask them to register right away — it's free of charge for clubs.
Businesses from all sectors— such as retail, eCommerce, hospitality and many more — that are interested in becoming fan-empowered sponsors and supporting VfL Bochum can register on the MyFavorito platform
https://www.myfavorito.com/vflbochum1848
and connect with the VfL community. Businesses can create various offers for VfL fans, thereby generating more customers and supporting local club sport at the same time. Members of the VfL community can redeem these offers and directly support their favourite club.
It's Game On. It's For Love and Money.
Read the VfL Bochum 1848 press release here:
https://www.vfl-bochum.de/news/uebersicht/netzwerk/vfl-kooperiert-mit-myfavorito
The VfL-Community on MyFavorito is here:
https://www.vfl-bochum.de/fans/fuer-die-fans/myfavorito