Now when shopping at the supermarket, eating hamburgers, visiting the hairdresser, shopping online, filling up with petrol, visiting a restaurant, buying a car, watching commercials, and many other everyday activities, Türkgücü München's members and fans can show love for their favourite club and directly support them in achieving important goals.
For this reason, Türkgücü München has established a community on the digital sponsorship platform MyFavorito. Interested brands and companies from all sectors — such as retail, e-commerce, regional and national brands, industry, hospitality, delivery services, and many more — can register independently at http://turkgucu.de/myfavorito, connect with the club and its fans and members, and create new sponsorship offers. Members and fans can then redeem these offers and with each transaction, cash flows directly into the club's account.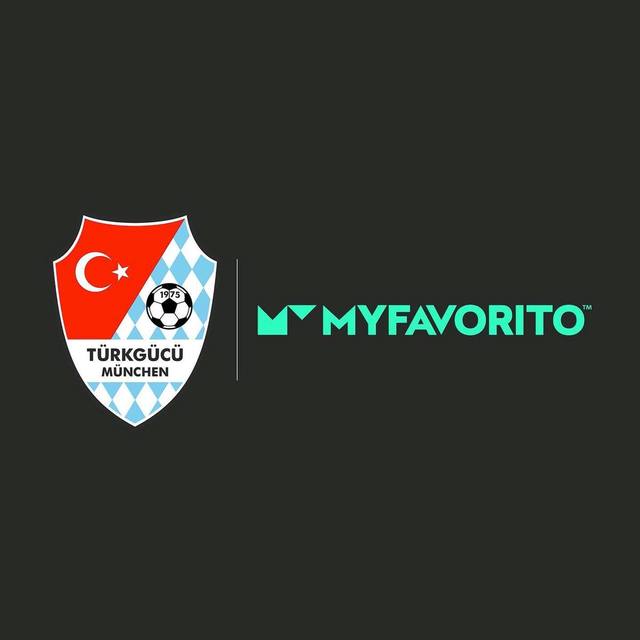 "The offer is primarily aimed at companies that previously had little to do with traditional sports sponsorship and prefer to spend their digital marketing and sales budgets on online platforms such as Google, Facebook, and Instagram. On the new Türkgücü München digital sponsorship platform, these companies can now reach more customers, generate more sales and more growth in a completely risk-free and clearly measurable way, while at the same time providing transactional support for their customers' favourite club," says Türkgücü München Managing Director Maximilian Kothny.

With every redemption, members and fans receive Türkgücü München loyalty points, which can be converted into attractive loyalty bonuses or money-can't-buy experiences. The club itself also uses the loyalty system to let fans share in its success. For example, extra loyalty points are awarded for every goal scored, every victory, and every point won. The entertainment factor has not been forgotten about either — fans can also use their loyalty points directly on the website with the digital "Türkgücü München Wheel of Fortune" and instantly win small and large prizes.

The new offer is integrated directly into the Türkgücü München website. Additionally, the Türkgücü München community can be accessed via the MyFavorito app (free for iOS and Android). Fans and interested brands can register at any time and take advantage of the various offers.

About Türkgücü München

Türkgücü München is the first professional football club founded by migrants in Germany and is currently one of the most exciting teams that German professional football has to offer. "Preserving traditions - connecting cultures" is the core message of the club, which was founded in 1975 in Munich. The sporing triumphs in the last three years have been breathtaking — after the promotion to the fifth-ranked Bavarian League (Bayernliga) was celebrated in 2018, promotion to the fourth-ranked Bavarian Regional League (Regionalliga Bayern) was achieved only one year later. The following year in 2020, the team was promoted once again to the Third Division (3.Liga). The club is aware of the top international position and world-renowned reputation of German football. The club's focus is on promoting football games, training, coaching, promoting young talent, and developing new talents. In order to tackle the club's upcoming goals, marketing the club to brands and partners from all over Germany and beyond, as well as building a large fan community, is a particular priority.

About All About Sports

All About Sports is the exclusive marketing partner of Türkgücü München. Right from the start, an exclusive overall marketing agreement was established with the third division club — the first professional football club in Germany founded by migrants. All About Sports is responsible for the marketing of advertising rights as well as VIP hospitality at Türkgücü München's home games in the stadium on Grünwalderstraße as well as the Olympic Stadium and will therefore be the first point of contact for any interested brands in the future. For this purpose, All About Sports provides technologies for digital sponsoring and fan activation and supports brands in their successful implementation. The marketing agreement was initially established until the end of the 2025/26 season.

About MyFavorito

MyFavorito is the digital, fan-empowered sports sponsorship platform that turns fan love into real money. With a radically different sponsorship model, MyFavorito build the ultimate playing field for sports. Fans decide and can generate real money for their favourite club. Brands activate and create real relationships with measurable results. Clubs win and generate a new and infinite source of revenue for a sustainable future — completely independent of matchday, stadium, and traditional sponsorship contracts and partnerships. MyFavorito not only helps sports clubs make more money but changes the game for millions of fans, businesses, and sports clubs around the world. We are flipping the old sponsorship model on its head and creating a world where everyone wins. It's Game On. It's For Love and Money. Brands, clubs, and fans can sign up for free at any time

here

and get started immediately.

Munich, April 7, 2021 - Türkgücü München, recently promoted to Germany's Third League (3.Liga), is taking an innovative approach to digital sponsorship and fan engagement. Effective immediately, the club is offering completely new opportunities for brands and sponsors to present themselves in association with the club, attract more customers, and achieve measurable results. Türkgücü München members and fans can now directly help generate revenue for the club and thereby support important club goals. A new loyalty system rewards fans whenever they shop with sponsors, pay attention, or perform other valuable activities. To implement this new system, Türkgücü München is working with the digital sponsorship experts at All About Sports and MyFavorito.