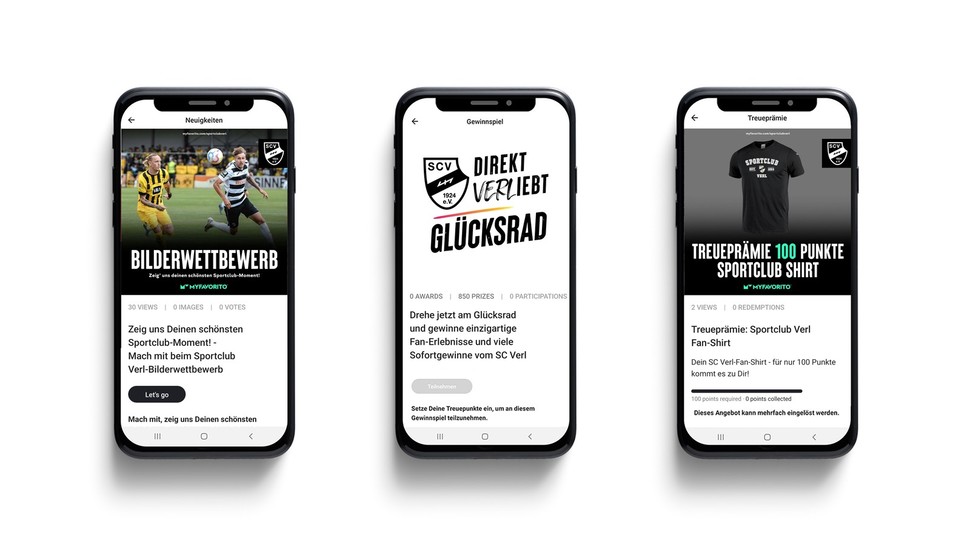 Erfurt 16. January 2023. SC Verl and the Erfurt-based digital sponsorship start-up MyFavorito are teaming up. The partnership aims to better activate SC Verl fans via a digital community, offer more innovation to sponsors and generate additional revenue. With MyFavorito, SC Verl will also reward its fans for various valuable actions and offers companies in the region new opportunities to grow their customer base and increase sales.
As of today, the third division football club SC Verl is launching its own community on MyFavorito -
https://myfavorito.com/sportclubverl
. More than 3,000 sports clubs (including VfL Bochum 1848, Bologna FC 1909, San Francisco City FC and many more) and more than 300 companies worldwide are already using the MyFavorito platform, which specialises in fan activation and fan-empowered sponsorship.
More fan activation
With MyFavorito, SC Verl will reward its fans and members with SC Verl points for various valuable actions. The club will also use the MyFavorito loyalty system to reward its fans for their support and to share in the club's achievements and success — fans automatically collect points for every goal, win and draw. Fans can also collect SC Verl points by buying tickets, fan merchandise, supporting the team on away trips, becoming a member, taking part in SC Verl image contests, reading social media news, recommending friends and many other valuable activities.

More opportunities for sponsors and participating companies
Above all, fans can collect SC Verl points by shopping with sponsors and participating companies, watching promotional videos, reading news, answering surveys or taking part in many other activities that generate new revenue for the club. Businesses can create various offers for SC Verl fans that will appear in the club's digital community, increasing awareness among fans, generating more customers and supporting local club sport at the same time.
Attractive loyalty rewards and gamification
Fans can then redeem their SC Verl points for exclusive fan experiences or attractive loyalty rewards including vouchers for the SC Verl fan shop, SC Verl jerseys, backpacks, a meet and greet with a player, or a personal picture with the team in the the stadium. Fans can also use their loyalty points to participate in the SC Verl Instant Prize Draw and immediately win small and large prizes week after week.
"Thanks to the partnership with MyFavorito, we can offer our fans further added value on an innovative, digital platform and inspire our sponsors and the companies in the region with new innovative products," says Mario Lüke, board member of SC Verl.
"We are very happy about the cooperation with SC Verl and welcome our first third-league club on MyFavorito," said Dirk Schlenzig, co-founder and managing director of MyFavorito, about the start of the cooperation. "We are especially looking forward to interacting with SC Verl fans and businesses in the region. With our radically different approach to sponsorship, we want to create added value for everyone involved and promote local club sport."
Interested companies from all sectors - such as retail, eCommerce, gastronomy and many more - can register on the MyFavorito platform https://myfavorito.com and connect with the SC Verl community. Businesses can create various offers for SC Verl fans, generating more customers and supporting local club sport at the same time. Members of the SC Verl community can redeem these offers and directly support their favourite club.
Press release SC Verl Website:
https://www.sportclub-verl.de/Artikel/56900/Ab-in-die-Sportclub-Communitymit-MyFavorito
Die SC Verl Community on MyFavorito:
https://myfavorito.com/sportclubverl
Press contact:
[email protected]