Roll'd Vietnamese and MyFavorito are set to energise local sports clubs across Melbourne! Fans can now make $1 for their favourite club every time they visit Roll'd.

Melbourne — 17th October 2022
— MyFavorito and Roll'd Vietnamese have teamed up to revolutionise community engagement and bring fan-empowered sponsorship to Melbourne's local sports clubs. Roll'd has launched its digital community on the MyFavorito platform — empowering fans to get involved with their communities and support their local team.
As a family-oriented company with a strong sense of community and a passion for sports, Roll'd was keen to expand their sport sponsorship program to include all local sports clubs in Melbourne and MyFavorito provides the technology to do this, with 30,000 Australian sports clubs currently listed on the platform.

How it works
As a fan-empowered sponsor of hundreds of local sports clubs across Melbourne, Roll'd is running an in-store promotion on MyFavorito. Sports fans and club members can visit one of the six Roll'd locations listed below, spend $15 on any menu item, collect a MyFavorito code, scan and send $1 to the sports club of their choice. As MyFavorito continues to launch across the country, this will soon expand to include more Roll'd locations.

Participating Roll'd Vietnamese Stores:
Karingal Hub
Altona Gate
Wendouree
Malvern
Epping
Greensborough
Bao Hoang, Roll'd Founder & CEO said: "Our Roll'd family really values community partnerships and is very passionate about giving back to the local communities we operate in. I personally love every sport, and sports clubs are often at the heart of many communities. We've always looked to find new and innovative ways to reach the local teams and families, so we are very excited to partner with MyFavorito and become fan-empowered sponsors of all local sports clubs across Melbourne. Sports club members, supporters, family and friends can now make real money for the clubs they love every day of the year with Roll'd and MyFavorito."
Roll'd Club Challenge
And that's not all! In addition to supporting local sports clubs with every transaction of $15 or more, Roll'd will also be running a club challenge. This challenge runs from October to December and will reward the local sports club with the most fan redemptions with an additional prize — a Roll'd catered end-of-season celebration! MyFavorito will keep track of all redemptions; clubs and fans can view the leader board and follow their club's progress by joining the Roll'd community on MyFavorito
here
.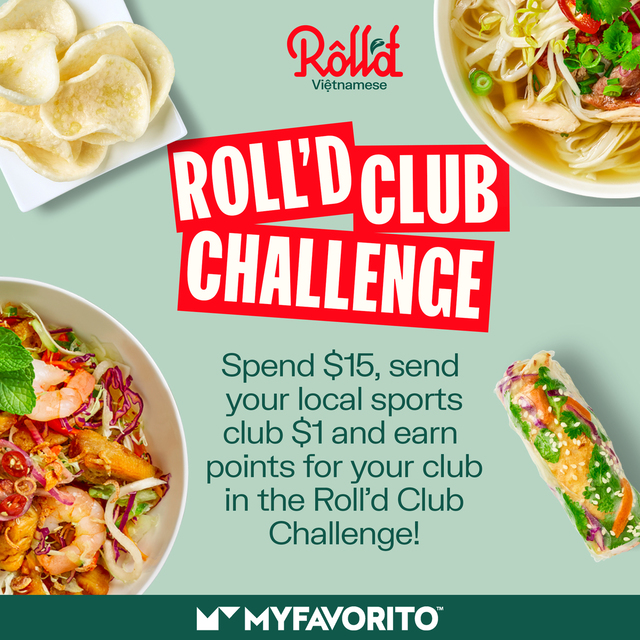 Why MyFavorito
MyFavorito is the platform for fan-empowered sports sponsorship and community activation. The radically different approach to sponsorship turns fan love into real money for sports clubs. Fans decide and can generate real money for their favourite club. Brands activate and generate more sales, customer loyalty and growth. Sports clubs engage better with their fans and attract more sponsors, generating a new source of revenue for a sustainable future. It's not just sports clubs that win, but entire communities!
Dirk Schlenzig, Co-Founder and CEO of MyFavorito, said: "We are delighted to be working with Roll'd. With their love for sports, their wonderful healthy products, and their desire to give back to the communities they operate in, the partnership with Roll'd was a natural fit. Bao and the Roll'd team immediately saw the value in MyFavorito – our radically different approach to sponsorship creates added value for all parties involved while empowering the people that matter most, sports clubs and fans."
Support your club today
Melbourne sports fans can access the new Roll'd digital community directly through the MyFavorito website and the MyFavorito app (find us in the App Store and Google Play). Visit a participating Roll'd store and support your local sports club today!
For more information on MyFavorito please visit www.myfavorito.com (select region Melbourne / Australia) or if you are a sports club or local business who would like to hear more, please get in contact with
[email protected]
.
About Roll'd
Our purpose is to share our obsession with fresh Vietnamese food and culture with Australia (and the world)!
We have delivered the same crust-crunching, noodle-slurping, sauce-squeezing, flavour-popping, lip-smacking experience to Aussies, hungry for adventure. And since 2012, that's exactly what we've done.
Even after 130+ store openings, we're still the same family. The kind that believes in crowding twelve people around a table meant for six. We're for elbows on the table. Sauce on the chin. Going back for seconds, thirds, fourths. Even fifths. Fast, fresh Vietnamese food is what we do. But family – yours and ours – is who we do it for.
About MyFavorito
MyFavorito is the digital, fan-empowered sports sponsorship and community activation platform that turns fan love into real money. With a radically different sponsorship model, MyFavorito built the ultimate playing field for sports. Fans decide and can generate real money for their favourite club. Brands activate and create real relationships with measurable results. Clubs win and generate a new and infinite source of revenue for a sustainable future — completely independent of matchday, stadium, and traditional sponsorship contracts and partnerships. MyFavorito not only helps sports clubs make more money but changes the game for millions of fans, businesses, and sports clubs around the world. We are flipping the old sponsorship model on its head and creating a world where everyone wins. It's Game On. It's For Love and Money. Brands, clubs, and fans can sign up for free at any time here and get started immediately.