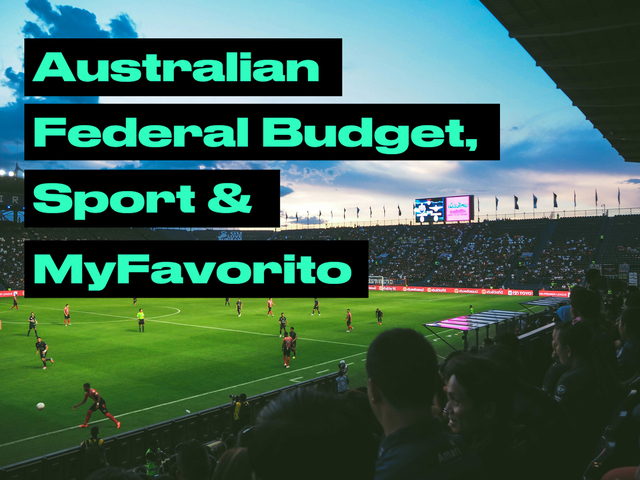 It was a great week for Australian sports with the Federal Government allocating over A$100 million to sports in the 2021-2022 Federal Budget. MyFavorito is happy to see the Australian Government supporting sports from grassroots, to schools, to elite athletes heading to Tokyo. With Australia set to host the FIBA Women's Basketball World Cup in 2022 and the FIFA Women's Soccer World Cup in 2023, women's sport received a A$17 million funding boost to help execute these events and complete the construction of the Matilda's new complex. We are also particularly interested in the A$4.7 million to support community sporting clubs grow their fundraising capacity and enhance their IT and cyber security. While A$4.7 million is a great start, especially after the tough year many clubs experienced in 2020, at MyFavorito we want to bring that number up to A$1.3 billion without relying on government funding!
That number may sound big, but the money is already available — Australian businesses are sending it to America's west coast through digital advertising with Google and Facebook. Australian businesses spent
A$9.5 billion
on digital advertising with the American tech giants in the last year alone and that number is expected to grow to
A$13.2 billion
by 2023. That money is sitting in Silicon Valley, doing nothing to help the Australian economy or local communities. We want Australian businesses to spend money on their local sports clubs rather than digital advertising with Google and Facebook. At MyFavorito our mission is to bring 10% of that A$13.2 billion back to Australian sports through fan-empowered sponsorship…and we've already started!
In the Greater Geelong region, trailblazing local and national brands like Grill'd and Mate have already embraced fan-empowered sponsorship to generate more sales, build stronger relationships with customers, and support their local sports clubs. As a result, sports fans have sent money to over 150 different sports clubs in the region — MyFavorito has a further 30,000 Australian clubs listed on the platform in a position to start making money. Brands can sign up to the MyFavorito platform for free, activate easily, and build mutually beneficial relationships. Fans decide to spend money with brands, brands get more sales, and a portion of that money goes back to the sports club. Brands can create real, emotional connections with customers, sports clubs gain a new and infinite source of revenue, and fans can actively contribute to their local club and community. We are flipping the traditional sponsorship model on its head, so everyone wins. Clubs and brands can sign up today at
www.myfavorito.com
and unlock their revenue potential or connect with Mark Hinshelwood (
[email protected]
) for more information.
About MyFavorito
MyFavorito is the digital, fan-empowered sports sponsorship platform that turns fan love into real money. With a radically different sponsorship model, MyFavorito build the ultimate playing field for sports. Fans decide and can generate real money for their favourite club. Brands activate and create real relationships with measurable results. Clubs win and generate a new and infinite source of revenue for a sustainable future — completely independent of matchday, stadium, and traditional sponsorship contracts and partnerships. MyFavorito not only helps sports clubs make more money but changes the game for millions of fans, businesses, and sports clubs around the world. We are flipping the old sponsorship model on its head and creating a world where everyone wins. It's Game On. It's For Love and Money. Brands, clubs, and fans can sign up for free at any time at
www.myfavorito.com
and get started immediately.