San Francisco, United States – July 20, 2021 — MyFavorito has announced that Death By Taco is the first fan-empowered sports sponsor in San Francisco, as the fan-empowered sponsorship platform launches in the United States.
Death By Taco owner Kristian Cosentino recognised MyFavorito not only as an opportunity to do something great for local sports, but as a risk-free opportunity to drive more visits, more sales, customer growth and loyalty. Cosentino says "We are excited to connect with sports fan in the Bay Area and sport local sports clubs with MyFavorito."
As a fan-empowered sponsor of 50+ sports clubs in the Bay Area, Death By Taco is running an in-store promotion on MyFavorito which enables fans to spend $20 on any menu items at Death By Taco, collect a MyFavorito code, scan and send $1 to the sports club of their choice.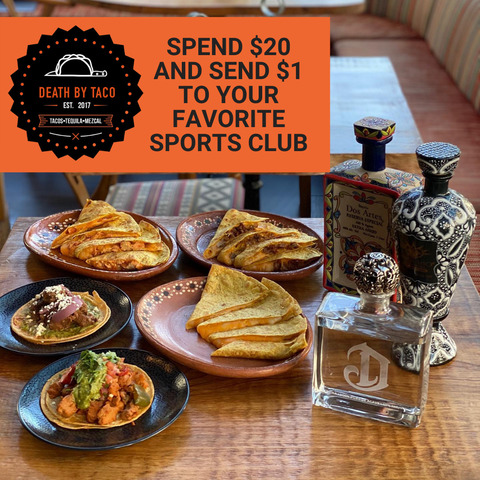 MyFavorito is creating the ultimate playing field for sport. Fans are empowered to make a real difference. Brands build real love and get real returns. Clubs access a new infinite revenue source and create their own sustainable future.
MyFavorito Managing Partner for the United States Marco Buhlmann, says: "More than just helping sports clubs make more money, we're changing the game for millions of fans, brands and clubs. MyFavorito is the fan-empowered sponsorship platform that generates infinite revenue so everyone wins."
"It's great to have Kristian and Death By Taco as an early mover – in Australia and Germany we have seen the invigorating effect MyFavorito can have on local sports clubs, local businesses, and local communities."
MyFavorito's fan-empowered sponsorship model is proven in Germany and Australia where the platform is live nationally with local and national brands. Over 50 Bay Area sports clubs are already listed on the platform – these clubs are in a position to start making money and are available for selection by any fan or customer across America — and that number is set to grow to include sports clubs across the country.
Death By Taco promotions are live on MyFavorito. Download the MyFavorito App for free today.
About MyFavorito
MyFavorito is the digital, fan-empowered sports sponsorship platform that turns fan love into real money. With a radically different sponsorship model, MyFavorito build the ultimate playing field for sports. Fans decide and can generate real money for their favourite club. Brands activate and create real relationships with measurable results. Clubs win and generate a new and infinite source of revenue for a sustainable future — completely independent of matchday, stadium, and traditional sponsorship contracts and partnerships. MyFavorito not only helps sports clubs make more money but changes the game for millions of fans, businesses, and sports clubs around the world. We are flipping the old sponsorship model on its head and creating a world where everyone wins. It's Game On. It's For Love and Money. Brands, clubs, and fans can sign up for free at any time here and get started immediately