PricewaterhouseCooper's (PwC) Sports Survey 2021 highlights MyFavorito's innovation in fan-empowered sponsorship, sports monetisation, and fan activation.
PwC's Sports Business Advisory recently released their annual Sports Survey assessing the current state of the sports industry in 2021 and highlighting industry innovators including MyFavorito. Drawing from data provided by Hype Sports Innovation, a leading global accelerator program that MyFavorito is currently participating in, PwC's Sports Survey 2021 featured MyFavorito as a 'particularly innovative start-up', specifically in sports monetisation.
This year's survey, which was conducted between June and August 2021 with 792 sports industry leaders from 55 countries around the world, focuses on recovery for the sports industry after a year of uncertainties resulting from the global pandemic and points to sustainability, both societal and financial, and innovation as key industry drivers moving forward. MyFavorito's radically different sponsorship model helps clubs generate a new and infinite source of revenue for a sustainable future while simultaneously allowing sponsors to support thousands of sports clubs at the same time in a fully transactional and transparent way.
Read the full results of the 2021 survey here.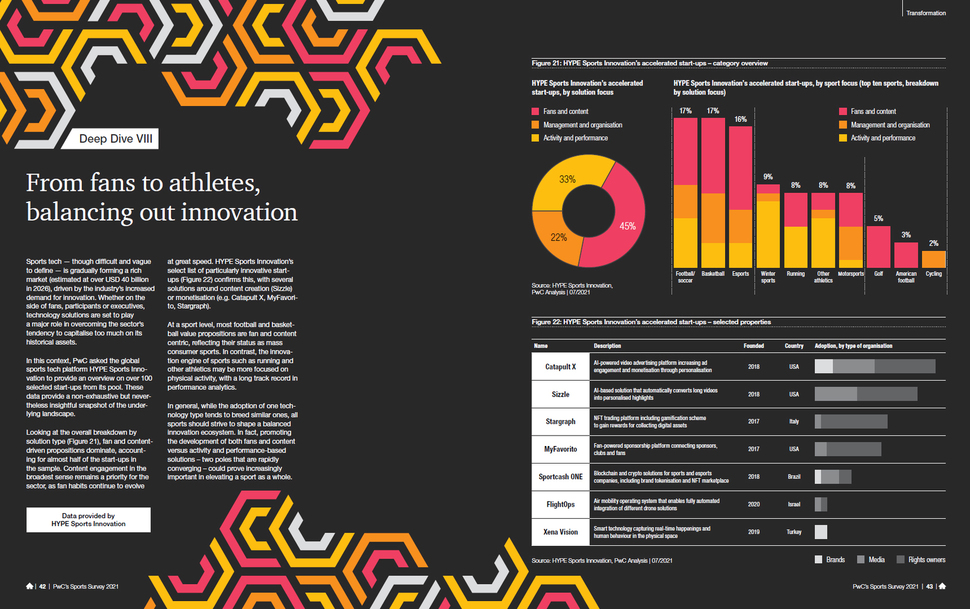 About MyFavorito
MyFavorito is the digital, fan-empowered sports sponsorship platform that turns fan love into real money. With a radically different sponsorship model, MyFavorito build the ultimate playing field for sports. Fans decide and can generate real money for their favourite club. Brands activate and create real relationships with measurable results. Clubs win and generate a new and infinite source of revenue for a sustainable future — completely independent of matchday, stadium, and traditional sponsorship contracts and partnerships. MyFavorito not only helps sports clubs make more money but changes the game for millions of fans, businesses, and sports clubs around the world. We are flipping the old sponsorship model on its head and creating a world where everyone wins. It's Game On. It's For Love and Money. Brands, clubs, and fans can sign up for free at any time
here
and get started immediately.