The fan-empowered sponsorship platform and Bulla Dairy are set to energise local sport in Colac, Otways, Surf Coast, Bellarine, and Geelong.
At MyFavorito we are creating the ultimate playing field for sport, and Bulla Dairy is on board to support every grassroots sports club in their region. MyFavorito transforms fan love into real money, so everyone wins. Fans are empowered to make a real difference. Brands build real love and get real returns. Clubs access a new revenue source and create their own sustainable future.
Bulla Dairy is sponsoring over 300 clubs at the same time, making it the largest sport sponsor in the region. Bulla Dairy Head of Marketing, Andrew Noisette, said "it's great to see sport reconnecting people and communities after the disappointment of 2020, and now more than ever, we want to help local sports clubs survive and then thrive. MyFavorito empowers people and communities to win. Sports club members, supporters, family and friends can make real money for the clubs they love every day of the year".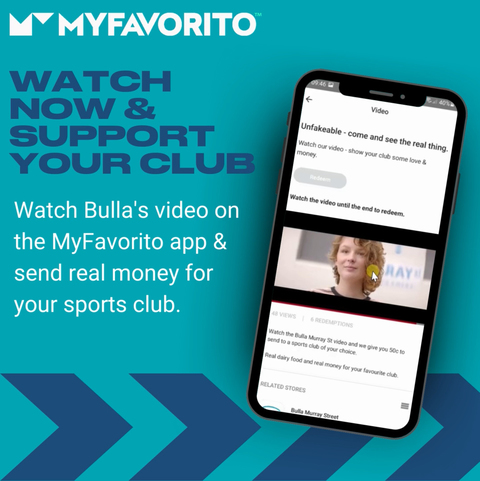 Bulla Dairy is putting the power back in the hands of the fans, quite literally. Fans can download the MyFavorito app and watch the Bulla Murray St video to send 50 cents to a club of their choice. Fans can buy a Bulla Murray St ice cream multipack or tub from any retailer and upload the receipt to get $2 for their favourite club. Check out this video of Geelong Cougars players, including Zara Walters from Colac Tigers FNC, using the app to send money from Bulla Dairy to Geelong Netball Club.
Bulla Dairy is kicking off its partnership with MyFavorito right here in Colac "as we know the strength of local sport and the community, and we are passionate about giving back to the local communities we operate in".
"We want the entire region to embrace the MyFavorito opportunity". Everyone can download the app and make money for local clubs, simply by watching videos or spending with everyday brands and stores. Clubs can get active by promoting to members and social audiences and make more money faster. National brands and local businesses can get involved by running promotions on MyFavorito. It's free to join and easy to get started.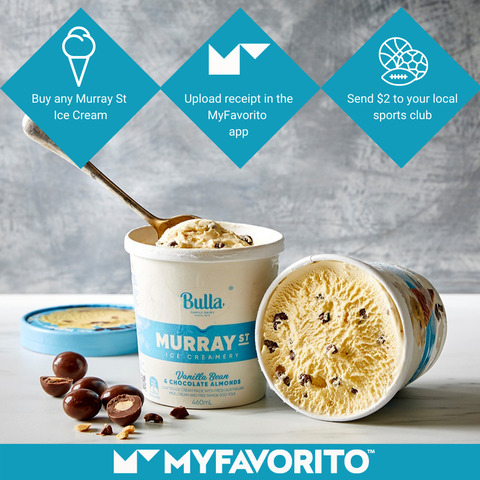 MyFavorito Managing Partner, Mark Hinshelwood, said "more than just helping sports clubs make money, MyFavorito is changing the game for millions of fans, brands and clubs", and "we are throwing down the challenge to think differently about the next generation of sponsorship".
"MyFavorito is for good. We welcome one and all on our mission to payout $1.6 billion per annum to Australian sports clubs.The money is there but it's spent with the tech titans and is disappearing to California's west coast. MyFavorito was built to counter this dominance and we want to do something about it. MyFavorito enables money to flow into sport and the national economy".
"MyFavorito is the fan-empowered sponsorship platform: for love & money. Fans decide. Brands activate. Clubs win".
For more information on MyFavorito please visit www.myfavorito.com (select region Melbourne / Australia) or if you are a sports club or local business who would like to hear more please get in contact at
[email protected]
About MyFavorito
MyFavorito is the digital, fan-empowered sports sponsorship platform that turns fan love into real money. With a radically different sponsorship model, MyFavorito build the ultimate playing field for sports. Fans decide and can generate real money for their favourite club. Brands activate and create real relationships with measurable results. Clubs win and generate a new and infinite source of revenue for a sustainable future — completely independent of matchday, stadium, and traditional sponsorship contracts and partnerships. MyFavorito not only helps sports clubs make more money but changes the game for millions of fans, businesses, and sports clubs around the world. We are flipping the old sponsorship model on its head and creating a world where everyone wins. It's Game On. It's For Love and Money. Brands, clubs, and fans can sign up for free at any time at
www.myfavorito.com
and get started immediately.