Check out the fantastic video promotion featuring RWE player Artur Mergel below!
FC Rot-Weiß Erfurt also reward its fans and members with RWE points for buying tickets, fan merchandise, supporting the team on away trips, becoming a member, taking part in the RWE image contest, reading and engaging with social media content, inviting friends to the community and many other valuable activities. The club also uses MyFavorito to share in the club's achievements and success — fans automatically collect points for every goal, win and draw.
Fans can then redeem their RWE points for exclusive fan experiences or attractive loyalty rewards including vouchers for the RWE fan shop, RWE jerseys, backpacks, a meet and greet with a player, or a personal picture with the team in the Steigerwald Stadium. Fans can also use their loyalty points to participate in the FC Rot-Weiß Instant Prize Draw and immediately win small and large prizes week after week.
Join the RWE community on MyFavorito today! Download the app, register and get your first 5 RWE points by redeeming the code "fcrwe".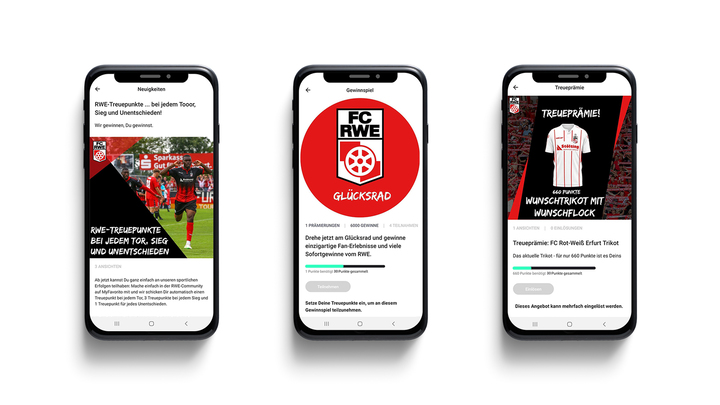 Erfurt, 23. December 2022. FC Rot-Weiẞ Erfurt and MyFavorito are strengthening their partnership and gearing up for a big 2023! RWE continues to grow their community on MyFavorito and will now reward fans with loyalty points whenever they shop with participating sponsors like Domsport.