Football is now first and foremost a business, lacking connection with the grassroots from where it spawned — this has become abundantly clear in recent weeks. Earlier this month the European Super League (ESL) was announced, comprised of 12 top teams from England, Spain, and Italy. Although the project was over soon after the announcement, it demonstrated just how out of touch football's money men are with the beautiful game and how far football has fallen.
With no possibility of relegation or promotion, the ESL was envisioned as an elite group of Europe's biggest, wealthiest teams and while looking for their next pay cheque, the owners forgot to inform their fans. Within hours of the announcement, fans of the six English ESL teams began protesting. Fans of smaller clubs were equally enraged, as this league would further increase the wealth gap between larger and smaller clubs and further decrease their chance at a Premier League or Championship title.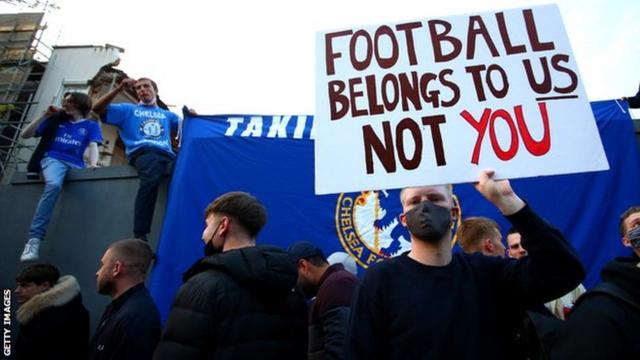 Photo credit: Getty Images
Football was once the preserve of the working people. It was a community sport that brought towns, villages, and cities together. At grassroots level it perhaps still is, but the gap between the public and the professional clubs seems to be widening at an alarming rate. With most top clubs owned by billionaires, the ordinary fan has very little say on how their club is run anymore. While proponents of the ESL claimed it would save football, a future without fans is no future at all.
At MyFavorito we aim to change this by putting power back into the supporters' hands. We put the fans in control of when and where their club makes money. Fans decide how much money to send to their club while simultaneously helping the local community by putting more money into the pockets of local businesses. Clubs of all sizes can work with their fans to generate a new source of revenue and build a stronger community.
MyFavorito is the digital, fan-empowered sports sponsorship platform that turns fan love into real money. With a radically different sponsorship model, MyFavorito build the ultimate playing field for sports. Fans decide and can generate real money for their favourite club. Brands activate and create real relationships with measurable results. Clubs win and generate a new and infinite source of revenue for a sustainable future — completely independent of matchday, stadium, and traditional sponsorship contracts and partnerships. MyFavorito not only helps sports clubs make more money but changes the game for millions of fans, businesses, and sports clubs around the world. We are flipping the old sponsorship model on its head and creating a world where everyone wins. It's Game On. It's For Love and Money. Brands, clubs, and fans can sign up for free at any time here and get started immediately.
For questions and more information:
Madeline Piper
[email protected]