Crawley, United Kingdom – February 11, 2022 — Crawley Town FC, a community-oriented club playing in the EFL League Two, has teamed up with MyFavorito to bring fan-empowered sponsorship to UK sports clubs and supercharge fan-engagement. To celebrate the club's 125th anniversary, Crawley Town FC launched its digital community on the MyFavorito platform — empowering fans and providing more opportunities for sponsors.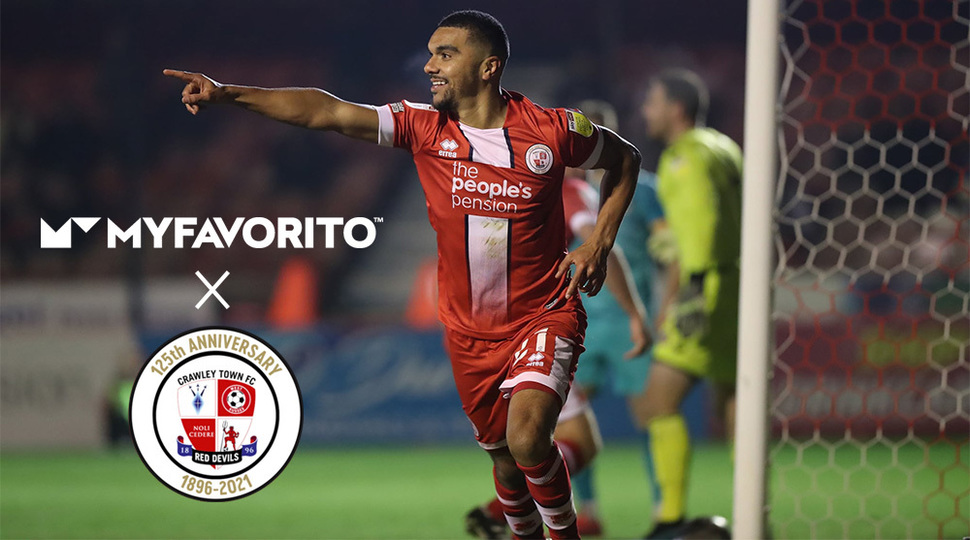 Fans will get Crawley Town Loyalty Points when they buy tickets or merchandise and every time Crawley score a goal or win a game! Registered partners, for example Domino's Pizza and Everyone Active (K2), will upload articles, polls, videos, and personalised discounts just for Crawley fans. When fans spend with registered partners or engage with the articles, polls, and videos, they will receive Crawley Town Loyalty Points and partners will send a percentage of that revenue back to the club. The aim is to create a flowing relationship between the club, the fans, and the partners so everyone wins.
Fans will be able to spend their hard-earned Crawley Town Loyalty Points on a range of prizes and experiences. For example, fans can use points to redeem anything from 125th anniversary pin badges and scarfs to video messages from first team players, match and hospitality tickets and signed shirts. Rewards will be consistently updated to provide new challenges and goals for fans. Check out the video below for more information of the Crawley Town loyalty system powered by MyFavorito!
Crawley Town FC Revenue Manager Alex Watts said "It has been refreshing to work with Joe, Maddie and Dirk from MyFavorito to become the first UK club to use the exciting fan engagement platform. MyFavorito have paved the way for fan engagement across sport in Europe and Australia so we, as a club, hope to be the first of many to embrace the new era of fan-empowered sponsorship. MyFavorito will also join us as our Official Goal Sponsor on the digital screen and social media, so it will be great to see so many fans receive Crawley Town Loyalty Points on their phones when we score. This partnership will pose the opportunity for fans to win memorable rewards and experiences through earning loyalty points with the club and registered partners. I hope it will bring fans even closer to the club whilst making the Crawley Town a more attractive proposition for existing and new sponsors."
MyFavorito is the platform for fan-empowered sports sponsorship, fan engagement and CRM. The radically different approach to sponsorship turns fan love into real money for sports clubs. Brands activate and generate more sales, customer loyalty and growth. Sports clubs engage better with their fans and attract more sponsors, generating a new source of revenue for a sustainable future. With MyFavorito, new and existing Crawley Town FC sponsors not only get better access to fans, but the opportunity to build relationships that drive sales with measurable results.
MyFavorito Head of Client Success UK Joe Millett added "We are absolutely delighted to welcome Crawley Town FC into the MyFavorito platform as our first professional club in the UK. They are a brilliant club at the heart of a fantastic community. They understand the importance of the club to the fans and businesses alike in the town and how Crawley Town FC can be a vital link in bringing both together. It has been a joy working with both Alex and Harry who know not only the club inside out but football, fans and the wider community and I look forward to working with them as we help them grow and become a lighthouse club for MyFavorito across the whole of the UK."
As a club with a strong sense of community, Crawley Town FC is a natural ambassador for MyFavorito, helping to bring fan-empowered sports sponsorship to all sports clubs in the UK. Crawley fans can access their new digital community directly through the MyFavorito website or the MyFavorito app (find us in the App Store and Google Play).
Businesses from all sectors— such as retail, eCommerce, hospitality and many more — that are interested in becoming fan-empowered sponsors and supporting Crawley Town FC can register on the MyFavorito platform
here
and connect with the CTFC community. Businesses can create various offers for CTFC fans, thereby generating more customers and supporting local club sport at the same time. Members of the CTFC community can redeem these offers and directly support their favourite club.
Download the MyFavorito App for free today.
It's Game On. It's For Love and Money.
Read the Crawley Town FC press release
here.