German sports fans and MyFavorito are well on the way to payout money to 90,000 German sports clubs.
German sports fans have said "Game on!" and made money for 700 sports clubs. How? Simple: by shopping with participating companies, stores and brands, and watching videos and commercials in the MyFavorito app.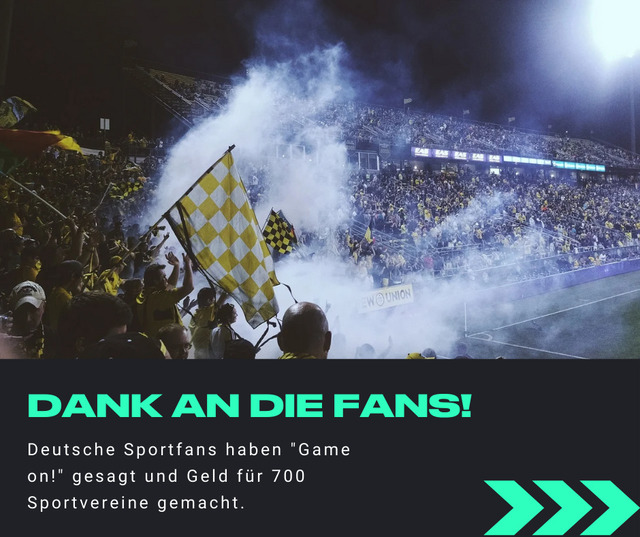 Innovative national brands like Viking, SKY Germany, Knappschaft, G Data and Sonnenklar.tv as well as local and regional brands like Meyerhof 1908 and Ruhr Park Bochum have already embraced fan-empowered sponsorship to support German sports clubs. Across Germany, more than 300 national, regional, and local brands are using MyFavorito to run their own sports sponsorship program and generate more customers, more loyalty, more revenue and ultimately more growth - while helping their new and existing customers' favourite sports clubs earn more money.
As a result, sports fans have sent money to over 700 different sports clubs across the nation. MyFavorito has all 90,000 German sports clubs listed on the platform, ready to earn money.
Fans decide. Brands activate. Clubs win.
Right now, fans can: watch the new TV spot from SKY Germany and send €0.25 to their favourite club; watch the video from Knappschaft and send €0.25 to their favourite club; or watch the videos from G Data and send €0.25 to their favourite club. Companies, fans and clubs can immediately join the "Viking Club Promotion - powered by MyFavorito" (https://viking.de/vfuerv) and send 3% of all future orders to their favourite sports club. Download the app and support your favourite sports club today!
Clubs and brands can sign up to the MyFavorito platform for free today at
www.myfavorito.com
, attract new customers, engage existing customers, and increase sales and growth. If you have questions or need more information, please contact us anytime via email at
[email protected]
.
About MyFavorito
MyFavorito is the digital, fan-empowered sports sponsorship platform that turns fan love into real money. With a radically different sponsorship model, MyFavorito build the ultimate playing field for sports. Fans decide and can generate real money for their favourite club by making everyday purchases at participating companies or giving attention and watching advertising clips. Brands activate and create real relationships with measurable results. Clubs win and generate a new and infinite source of revenue for a sustainable future — completely independent of matchday, stadium, and traditional sponsorship contracts and partnerships. MyFavorito not only helps sports clubs make more money but changes the game for millions of fans, businesses, and sports clubs around the world. We are flipping the old sponsorship model on its head and creating a world where everyone wins. It's Game On. It's For Love and Money. Brands, clubs, and fans can sign up for free at any time here and get started immediately.